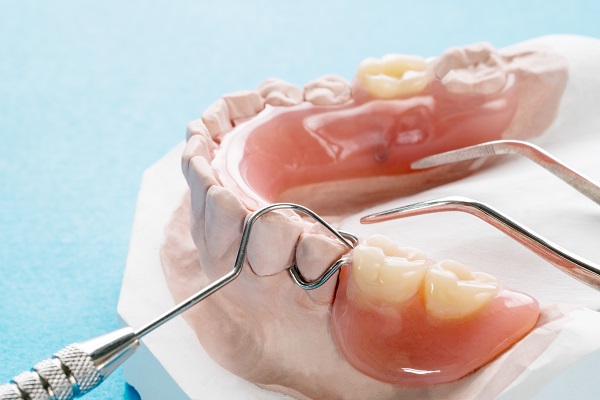 Partial dentures are an excellent option for people looking to replace their missing teeth. They may even be good options for people who don't yet realize it, like those with gum disease or decaying teeth. We will start by explaining how dentures work, then look at when a dentist may consider using them.
What are partial dentures?
They are fake replacement teeth that are attached to a base that is usually acrylic. They fit comfortably in your mouth and allow you to perform activities like eating with them efficiently. They also look natural and fill in gaps in your smile.
When does a dentist use them?
There are several scenarios in which a dentist would consider using partial dentures. Since they are used to fill in gaps, a dentist might want to use them if someone already has missing teeth. They might be particularly inclined to do so if the missing teeth are nonconsecutive because then other options such as permanent implant bridges are not viable.
Sometimes patients may be suffering from gum disease or damaged teeth. These are both ailments that can be solved with partial dentures. Gum disease can weaken the oral tissues, which can cause teeth to loosen. If teeth become too loose, the only solution might be to extract them. In this case, the dentures could be used to fill in the newfound gaps. Similarly, if teeth are damaged or decayed beyond repair, they might also need to be pulled. Dentures could also be used to help restore a full smile.
Other considerations
There are times when a dentist might be disinclined to recommend dentures to patients. The surrounding teeth need to be strong to support the denture. Therefore, if they are weak or at risk of weakening from spreading gum disease, the dentist might want to get that under control before moving forward with dentures.
If there is only one missing tooth, or any missing teeth are consecutive, permanent implants might be a better option. The implants are inserted into the jawbone. Then fake teeth are screwed onto them. They tend to last longer than dentures but are much more expensive.
If a dentist does decide to use dentures, however, upkeep is fundamental. After every meal, the dentures should be washed in warm water with mild soap and a soft-bristled toothbrush or denture brush. This will help to prevent stains and food from building up on the surface. They should also be soaked in water or a gentle cleaning solution every night to keep them clean and unwarped.
Lastly, the effect on the mental health of the patient should not be neglected. Missing teeth can make people self-conscious, unwilling to engage in a vibrant social life, or even depressed. Therefore, dentures can lead to happier patients who live a better quality of life. Research shows that positive thinking leads to better health outcomes in general, such as increased brain or immune function.
Request an appointment here: https://www.drkhorsand.com or call Khorsand Dental Group at (760) 394-3082 for an appointment in our El Centro office.
Check out what others are saying about our dental services on Yelp: Dentures and Partial Dentures in El Centro, CA.
---
Related Posts
January 5, 2023
Are you considering dentures to replace your missing teeth? Dentures are oral appliances that act as artificial teeth for those who are missing teeth, whether on the top, on the bottom, or …