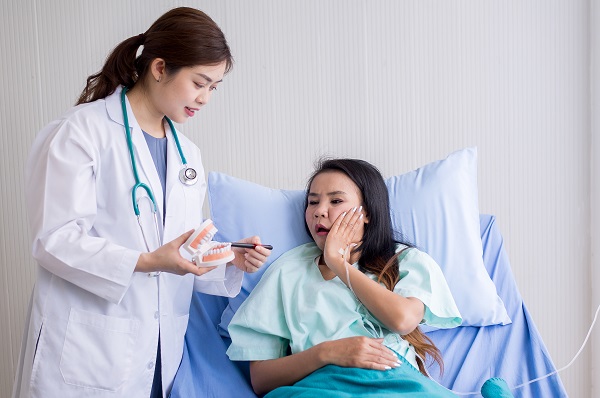 Wondering if you have TMJ, also known as temporomandibular disorder? Whenever you are experiencing any type of dental-related problem, making an appointment with a dental professional as soon as possible is necessary. If you do not, then your dental problem will only continue to get worse until you do.
What is TMJ?
Learning more about TMJ is a great idea. The more you understand about potential dental problems, the more likely you will be able to avoid any dental problems. According to Healthline, TMJ is an abbreviation used to refer to a group of health problems related to your jaw, which can cause tenderness at the joint, facial pain and difficulty moving the jaw joints. These jaw joints are what connects your lower jaw to your skull and accordingly allows you to open and close your jaw, which is necessary for performing everyday actions like talking and eating.
How is TMJ treated?
While some people who have a minor case of TMJ will recover on their own, many people will need professional treatment. The information below includes three popular TMJ treatments that are being used nowadays.
#1. Medication
Some patients will experience the relief they are looking for by taking different types of medications, which also helps with any discomfort or pain. Medication options include taking over-the-counter pain medications, pain prescriptions prescribed to them by their dental professional, anti-depressants to help with restlessness and muscle relaxers that help with muscle spasms.
#2. Therapy
Oral devices are a type of therapy often used to treat those who have been diagnosed with TMJ. These devices include mouth guards and splints, which are both worn over the teeth. Physical therapy is another option, which requires patients to perform certain prescribed stretching and strengthening exercises to strengthen their jaw muscles. Sometimes, ultrasound, heat and ice are used in a physical therapy session. Counseling is a third type of therapy and is often recommended for TMJ sufferers who grind or clench their teeth.
#3. Surgery
Surgery is often the last option and is used when other options have not worked. Because there are risks and benefits associated with each type of surgery, it is important for TMJ sufferers to understand all their surgical options. Common surgical procedures used to treat TMJ include arthrocentesis, corticosteroid injections, arthroscopy and open-joint surgery.
Need to make an appointment with us today?
Think you are in need of a TMJ diagnosis? We invite you to call us now to schedule an appointment so you can find out whether you are living with this fairly common jaw disorder. Your first step is being properly diagnosed because then you can understand what treatment options are going to be available to you. Ready to get the process started so you can once again have a healthy mouth? Call us at your earliest convenience if you have any questions or concerns about the TMJ treatment process. We are here to help!
Request an appointment here: https://www.drkhorsand.com or call Khorsand Dental Group at (760) 394-3082 for an appointment in our El Centro office.
Check out what others are saying about our dental services on Yelp: TMJ in El Centro, CA.
---
Related Posts
March 6, 2023
TMJ disorder, or temporomandibular joint disorders, refers to a group of issues related to mobility and discomfort around the jaw joints. The temporomandibular joints are the joints that link the lower jawbone …