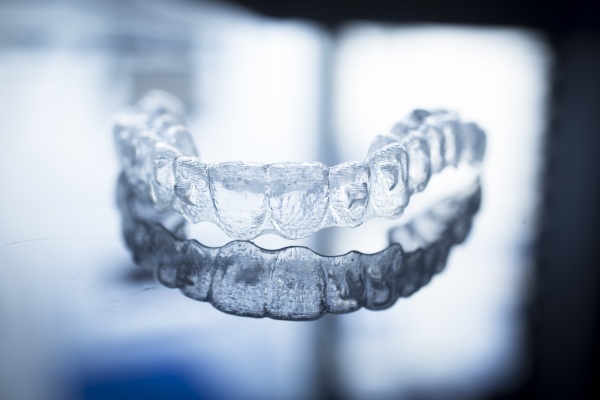 With the growing popularity of Invisalign, most at least have heard of it by now. Over one million people throughout the world have experienced the clear aligner system to gain a straighter smile, and dentists are proud to present Invisalign to qualifying patients.
Let's look at some of the basics first
The Invisalign system offers the same beautiful results as traditional metal braces by utilizing a series of clear aligners that have been custom-made for the teeth. Each aligner is worn from one to typically two weeks before being replaced by the next in the series, gradually moving the teeth until the final desired position is accomplished.
Because of their near invisibility, Invisalign is a less obvious way to straighten the teeth. Remove the aligners when drinking and eating (so there are no food restrictions). This also makes daily dental hygiene easier to maintain, because there are no wires or brackets included.
Visibly, Invisalign has a lot to offer
What about all the ins and outs of Invisalign treatment?
Here's a step-by-step beginner's guide to what treatment with Invisalign involves.
Consultation
Once the orthodontist has been chosen, set up an appointment for an initial consultation. Most dentists are happy to offer a complimentary consultation to anyone interested in orthodontic treatment.
At this consultation, the orthodontist will examine the mouth, take x-rays and photographs of the teeth and decide if Invisalign therapy is a suitable treatment. At this point, a candidate will be able to learn more about the procedure and ask any questions, from how it works to how much it costs.
Customized treatment plan
Once the candidate has chosen an orthodontist and decided that Invisalign is an option, the dentist has impressions of the teeth created, and a personalized treatment plan is developed. A 3D digital image of the teeth is also made, which will be used to map out the different stages of teeth positioning that will be used throughout treatment. Each patient is not the same, but the total time for the procedure to be completed is generally about nine to 15 months for adults. Teens might expect to wear Invisalign the same amount of time as traditional braces, which tends to be 24 to 36 months on average.
Clear aligners
The next step is obtaining the first aligner. This will be a faintly straighter version of the current smile. The aligners should be worn throughout the day, only removing them to eat and drink, brush and floss. Be prepared to wear your aligners for at least 20 to 22 hours a day for the best results.
After a few weeks, a new set of aligners to wear will arrive. Each subsequent set is a somewhat straighter version of the last set, which allows the teeth to slowly and gently shift into a beautifully aligned smile. Depending on the Invisalign treatment plan, expect to receive between 10 to 50 aligners.
Celebrate a brand new smile
Finishing up the Invisalign treatment lets you show off that beautiful smile to the world! Retainers may need to be worn for a time to keep the teeth in place, and of course, a routine of brushing and flossing is essential.
Are you considering clear braces in the El Centro area? Get more clear braces information at https://www.drkhorsand.com.
---
Related Posts
October 17, 2022
Invisalign® has become the standard for teeth straightening treatment due to the ease of the process and the many benefits it offers. Unlike traditional approaches such as braces, Invisalign® allows individuals to undergo …
---