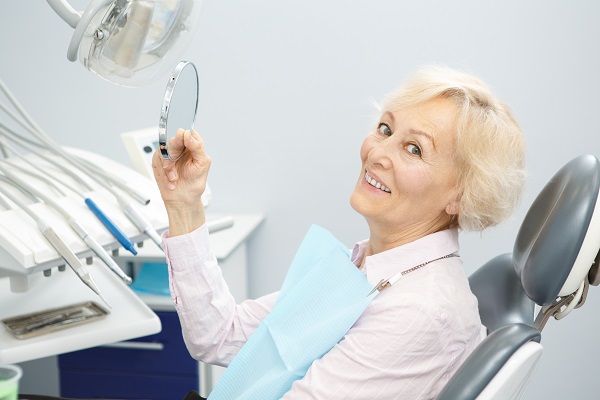 Want to choose dentures that will last you as long as possible? When you get new dentures, you not only want them to fit well and look natural, you also want them to last you for many years. There are quite a few denture choices available nowadays for you to choose from, with conventional dentures, custom made dentures and implant-supported dentures being three of the more popular choices.
How long can dentures last?
Finding out how long dentures can last is a great idea. Depending on the type of denture choice someone chooses, they can expect their dentures to last anywhere between five years and 20 years. For the most part, it depends on the type of dentures chosen, as well as the type of materials used when making the dentures. There are a few things that denture wearers can do in order to make your dentures last longer. Ready to learn what they are so you can get the most use out of your dentures?
Help dentures last with these easy to follow steps
The information below is on the topic of what denture wearers can do in order to make their dentures last for as long as absolutely possible.
Use both hands to remove them from the mouth
It is very important for denture wearers to make sure that their dentures do not lose their shape. This makes it a good idea to remove dentures from the mouth using both hands, making sure to remove the dentures using an equal amount of gentle force. When only one hand is used, it is possible for dentures to slowly start losing their shape when they are removed in a way that only affects a part of the dentures.
Use a great deal of care when cleaning them
It is necessary for denture wearers to clean their dentures, just like it is necessary to clean natural teeth. Cleaning dentures must be done with a great deal of care, as if they are handled too roughly or even dropped, it is possible for them to break. This makes it a good idea to closely follow any cleaning instructions that came with the dentures, as well as place down a soft towel just in case they happen to be dropped.
Rinse them often throughout the day
Keeping dentures clean is one of the most important things denture wearers can do to make them last as long as absolutely possible. This includes a rinsing them often throughout the day in order to keep any harmful bacteria away. If bacteria is allowed to build up on dentures, it is likely to lead to a mouth infection. Rinsing dentures is especially important right after consuming drinks or foods.
Are you in need of new dentures?
Are you currently deciding which type of dentures is right for you? If you are, we invite you to contact us now so we can schedule you in for a consultation appointment. This appointment is a great opportunity for you to learn more about which a denture choice is right for you, as well as ask any questions you have about dentures. Once you understand more about your choices, you are sure to make a choice that is right for you!
Are you considering getting dentures in the El Centro area? Get more information at https://www.drkhorsand.com.
Check out what others are saying about our services on Yelp: Read our Yelp reviews.
---
Related Posts
September 18, 2023
A dental crown may last a lifetime. But sometimes, even a good-quality crown can break. If your dental crown broke, it is important to find out what happened in order to avoid …