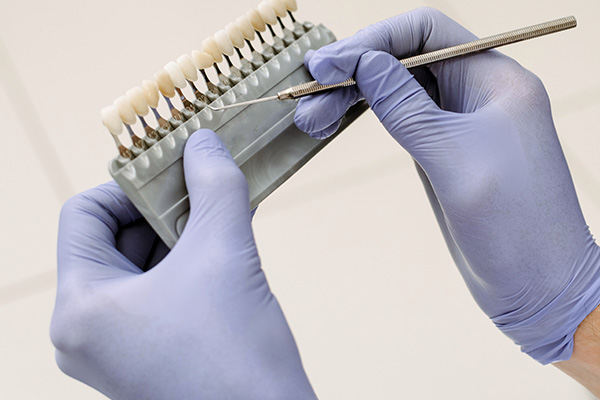 Dental veneers are a great way to undergo a cosmetic dentistry transformation. They are commonly used in general dentistry for restorative purposes, however, individuals looking to improve their smile may benefit from having dental veneers placed in a cosmetic dentistry setting. Dental veneers are a versatile treatment option that can be used for various things, ranging from broken teeth treatment to covering yellow stains.
When used in cosmetic dentistry, dental veneers are likely to produce results that improve aesthetics. The cosmetic dentist will typically recommend porcelain-based veneers as these are strong and reliable. The entire process may require two to three appointments, including the impressions, the placement procedure and a follow-up.
What can dental veneers be used for?
Outlined below are a few cosmetic dentistry uses for dental veneers. When looking into different treatment options, it can be helpful to review the following information.
Stained teeth
Many individuals visit a cosmetic dentistry practice for stained teeth. Stains are the result of heavily dyed beverages or foods, as well as a lack of oral hygiene. Most cosmetic dentists recommend teeth whitening, however, not everyone can benefit from this treatment option. Individuals with 10+ years of stain build-up may have to have dental veneers placed instead. Dental veneers can be color-created with a bright shade of white, thus covering the stains and renewing the teeth.
Chips and cracks
Teeth that have suffered from injury or accidents may benefit from having dental veneers placed. Oftentimes, a minor crack or chip is harmless, however, they can result in an unappealing smile. Dental veneers can be placed to cover cracks or chips in teeth, which improves aesthetics and reduces the risk of cutting soft tissue on the broken part of the tooth.
Lengthening
Another cosmetic dentistry use for dental veneers is to lengthen teeth that are too short. Teeth that are too short can result in an uneven smile, as well as difficulties with eating. With the help of a cosmetic dentist, individuals with short teeth can have dental veneers placed, which will improve aesthetics and function.
Shape
Some teeth grow in uniquely, which can present various problems, ranging from aesthetics to functionality. Teeth that are misshapen may cause the entire arch to look uneven, which can cause individuals to hide their teeth when smiling. However, a way to fix misshapen teeth is through dental veneer placement. A cosmetic dentist can help individuals reshape their teeth by placing dental veneers to fill out the natural tooth. Whether the misshapen tooth is not aligned with the surrounding teeth or there are small gaps, dental veneers can help.
Learn more about dental veneers
Want to find out more about dental veneers and what they can be used for in cosmetic dentistry? Working with a cosmetic dentist is the best place to start. An evaluation can be done to determine the best course of action. Reach out today to ask questions, go over concerns or to get started with an evaluation.
Are you considering dental veneers in the El Centro area? Get more information at https://www.drkhorsand.com.
Check out what others are saying about our services on Yelp: Read our Yelp reviews.
---
Related Posts
September 18, 2023
A dental crown may last a lifetime. But sometimes, even a good-quality crown can break. If your dental crown broke, it is important to find out what happened in order to avoid …