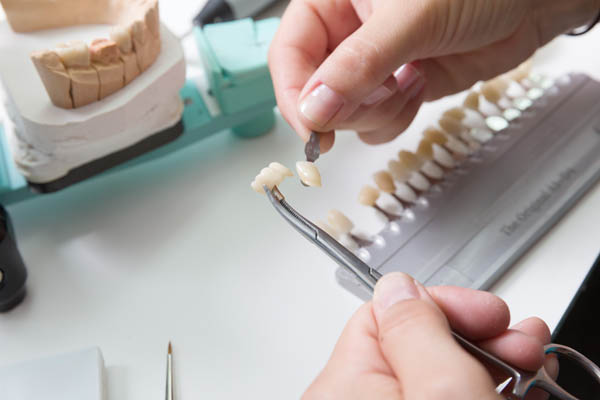 Are you thinking about getting dental veneers to repair damaged teeth and improve your appearance? More and more patients are going with this option instead of other treatments. If you are curious about what this process entails, you can talk to your dentist. There are clear benefits that a veneer can offer to give you a straight smile.
Issues that dental veneers can address
A smile is one of the first things a person will notice about someone else. Uneven, damaged, or unsightly teeth can hinder a person's appearance and make them feel embarrassed. A veneer is an effective way of making a tooth whole again. Dentists commonly recommend this treatment for people who have chipped, cracked, or broken a tooth. A veneer may also be the right choice for misshapen, uneven, or abnormally large or small teeth. Because a veneer can be fabricated into the desired shape, size, and color, patients can use it for discolored or stained teeth.
What they are and do
A veneer is a thin porcelain shell that attaches to the front of a tooth. It can improve the cosmetic appeal of a damaged or unattractive tooth. Dental veneers also strengthen a damaged tooth or prevent further problems from occurring. The shell is durable enough to withstand chewing most foods. A veneer should last for seven to 10 years, depending on how well the patient takes care of it.
The process
If the dentist determines that the patient is a good candidate, there will be a series of X-rays and impressions. This allows the dentist to fabricate the veneer, so it will fit comfortably and properly. At a subsequent appointment, the dentist will numb the patient and then reshape the tooth. After removing some enamel, the dentist will etch the tooth to help the veneer bond to it. Using dental cement, the veneer attaches to the affected tooth. The dentist checks the person's bite before sending them home.
Maintenance and care
Dental veneers allow the patient to bite into many foods that may have previously been difficult to chew. Still, it is important for the person to be cautious about eating hard items such as candy and ice, as well as chewy foods such as steak or bread. This will preserve each veneer and keep them from becoming damaged. It is also critical to continue brushing so that the veneer does not stain. Flossing will also keep them looking nice. Patients should make sure to visit the dentist at least twice a year.
A viable solution to achieving a new look
Have you been avoiding social settings and hiding your smile? You do not have to do that any longer. Talk to your dentist today about getting started on this treatment. As you learn more about this process, you can feel comfortable moving forward. If your teeth are damaged or do not look the way you want, dental veneers can make a significant difference. Make an appointment and get started.
Are you considering dental veneers in the El Centro area? Get more information at https://www.drkhorsand.com.
Check out what others are saying about our dental services on Yelp: Dental Veneers in El Centro, CA.
---
Related Posts
August 1, 2023
If you are unhappy with the color of your teeth, veneers may be able to help you achieve the smile you've always wanted. Veneers, also known as dental porcelain laminates, are thin …